during lockdown #1
During the Covid-19-lockdown period, some work got postponed, so we suddenly had some spare time. We were physically separated as well, setting up workplaces at home. As an experiment we entered some open design competition, while communicating as a team solely through Slack and Zoom. We enjoyed the experiment and the resulting design, but we even more liked it when after 2 months, we could join each other in the office again.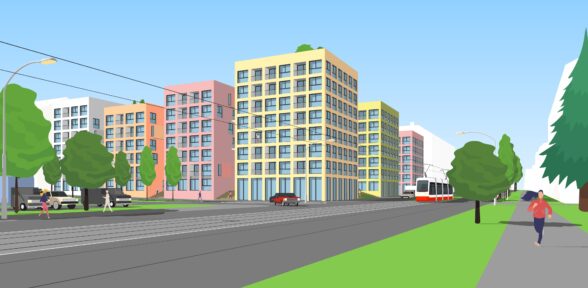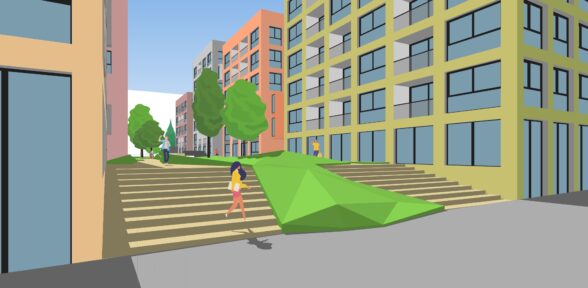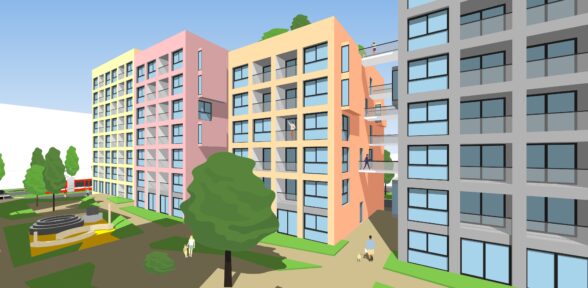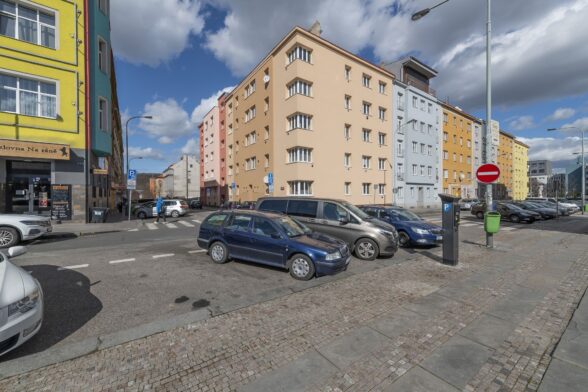 Residence Vysocany, Prague
Urban Pixel Blocks: A new and familiar neighborhood.
To the northeast the site forms a corner to Psí Louka park and the recently enlarged Poliklinika Vysočany. To the south the development adjoins the perimeter blocks on the site and along U Skládky street. The site offers the opportunity to meet both worlds by completing the perimeter block with a permeable open structure called: Urban Pixel Blocks.
A semi-public, green courtyard podium
Along K Moravině street, towards Sokolovská street the terrain slopes down for 2 meters. By leveling the existing and new courtyards, a raised podium is created that can be reached by urban stairs and ramps. This courtyard podium establishes an urban connection to the city life while it remains a semi-public character; because of the height difference to the busy street, it naturally belongs to the neighbourhood.
The two-level parking garage is located underneath the podium. Its meticulous layout allows for two large 'pockets' in which big trees have free space to root in the earth. The new green courtyard connects to the greenery and full-grown trees in the existing courtyard.
Solely corner-apartments
A big advantage of the Pixel Blocks is that within every block all apartments are located in the corners. The living rooms are always orientated towards the courtyard or the street (to the east & west) and have a private loggia.
At the 6 meter wide alleyways, from the 2nd floor up, a series of bridges can be seen connecting the different Pixel Blocks. . These bridges form part of an internal circulation principle of short corridors, staircases and lifts that is designed to reduce the number of vertical access points to six. The bridges also provide access to the shared roof gardens.
Familiar architectural expression in the facades
The architecture of the Pixel Blocks wants to refer to the architecture of the existing buildings in the nearby surroundings. In principle, the apartment complex can be regarded as a perimeter block which is dissected at regular intervals. The facades of the blocks consist of a strong and colourful stucco grid with window frames, presenting itself as the 2.0 version of the Vysočany perimeter block

graphic samples/props by Macrovector