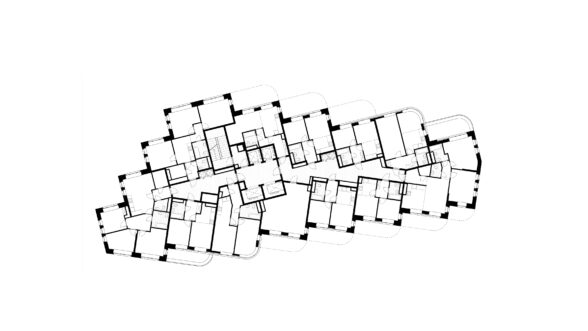 Saw-tooth plan
The housing areas in Moscow City are undergoing massive transformations. The demand for housing is extremely high. In many districts the typical 5-story blocks make way for high rise apartment buildings, putting pressure on the neighborhood and making the insolation requirements (sunlight on the facade of the new and the existing neighboring buildings) the top priority design challenge.
The "saw tooth" plan offers to each apartment windows in two directions. Therefore the apartment catches twice the amount of direct sunlight per day. This layout forms the base typology of the two buildings.
The blocks are developed as one ensemble with a strong identity. Within this ensemble the towers vary, just like individual persons can be different, but still everybody sees that they belong to the same family.


The client explicitly asked for Dutch architecture. With concepts such as identity and coherence in mind, a contemporary architectural design has been developed, based on the idiom of the Amsterdam School: expressive plasticity with preferably round shapes, a rhythmic repetition of volumes, vertical articulation and repetitive, square windows. Furthermore, the Amsterdam School is characterized by the balanced use of the materials brick, wood, glass, natural stone, concrete and metal, in combination with monumental wooden entrances and exceptional details.
The lesson from the Amsterdam School is that the emphasis in designing has to lie on creative use of materials, refined architectural details and on a precise way of construction. With our Russian co-architect, the builders and our client, we were able to reach that level of precision.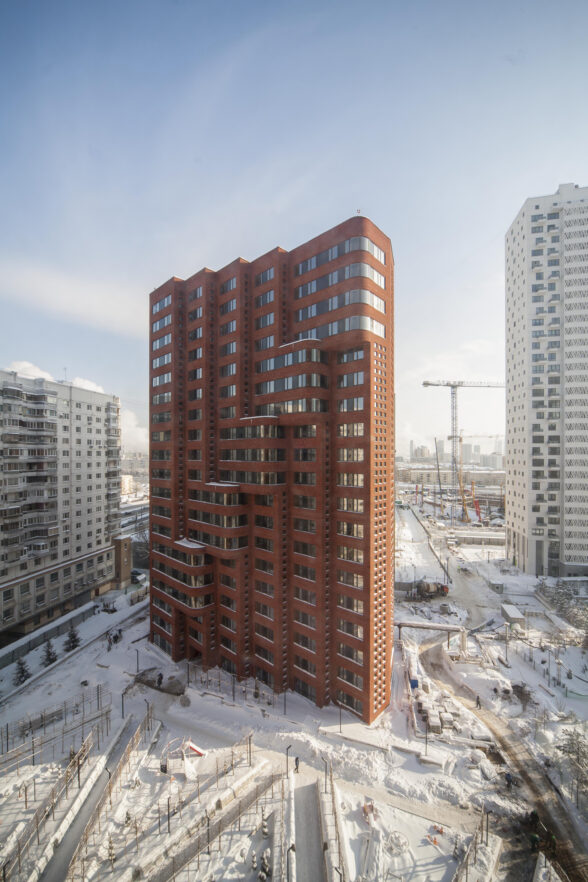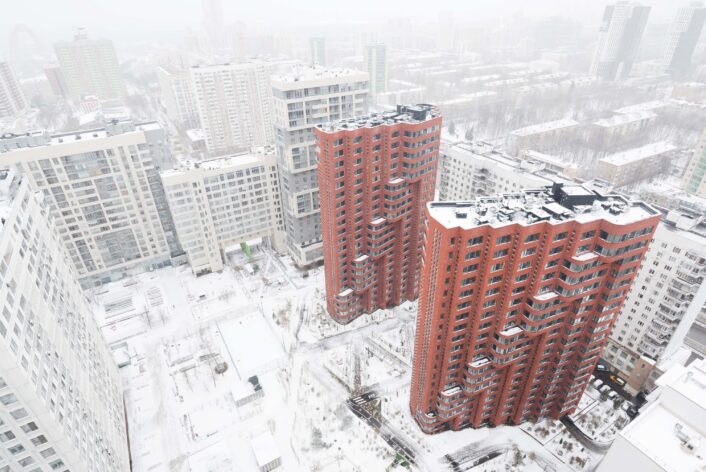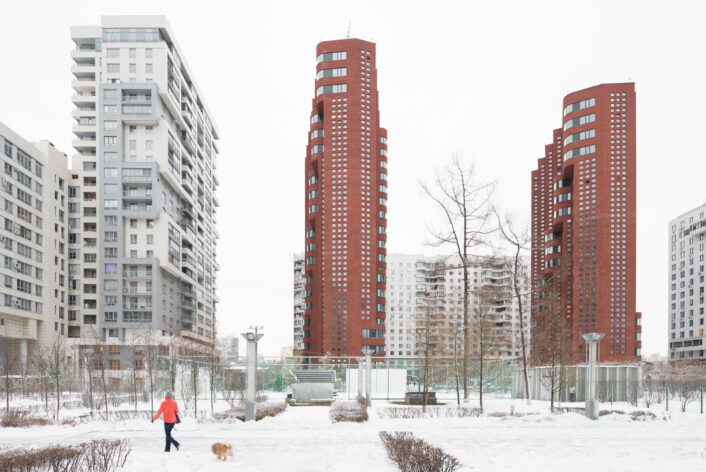 The characteristics of the Amsterdam School have been transformed into modern design tools, such as the rhythm of the saw-tooth facade, the stepped rounded bay windows and the abstract pattern of small square windows. With this strategy it was possible to give the Dutch House ensemble a spectacular architectural appearance. Due to the play of light and shadow, the interplay of the two buildings is experienced differently from every angle.
The same principle has been followed in the choice of materials and detailing of Dutch House. The facades are made of Dutch, orange-colored bricks, the round bay windows have curved glass and the heavy entrance doors are monumental due to their wooden profile.
The corridors leading to the apartments are very specific, created by the saw tooth structure. To enhance the experience we designed vertical lighting strips from floor to ceiling. These strips shed direct and indirect light on wall panels with 3D tulip patterns.