Lycka building: 118 affordable apartments in Amsterdam Sloterdijk
team pauldevroom + sputnik #
2014 was a magical year for us. It was the year Paul de Vroom Architecten and Sputnik joined forces for the first time on a closed competition in Moscow. This collaboration turned out to be better than we could ever have imagined. The teamwork during that first project proved to be refreshing and stimulating, bringing out the best of our joint experience and knowledge. We have continued to work together on projects in The Netherlands and abroad ever since, varying from (social) housing to offices and other commercial buildings. It was a logical step to merge the offices in 2016.
The war in Ukraine has resulted in us suspending our activities in Moscow until further notice. Our thoughts are with our Ukrainian and Russian friends and colleagues during these very difficult times. We hope they are safe and stay strong. While working on the projects in Moscow, we met colleagues with whom we built up a long-term working relationship, who have become friends and with whom we share the core values of peace, freedom and an open society.

Paul de Vroom Architecten was founded in 2013. With this office, de Vroom has embarked on a new and challenging course, after a career of 30 years as founder-partner of DKV Architecten. With DKV, Paul de Vroom realized a series of projects in the field of housing, urban planning, utility constructions and public programs that were received with excellent reviews nationally and abroad.
Sputnik Architecten is a Dutch office. There is no Russian background or affiliation. The name was chosen when the office was founded in 2000, referring to the first satellite that was put into orbit in 1957. A sky-reaching idea, executed with elegant simplicity. The office mirrors its design method on that. It symbolizes innovation and a optimistic view on the future.
Many of the projects prior to 2014 in our individual offices have had a major impact on our development as architects. Therefore, in addition to our recent work, a selection of these projects is presented in the Projects section of this website.
Projects
highlighted project: Dutch House #
This project is very dear to us because it is the first building that has been completed since we founded team pauldevroom + sputnik. The relationship of Paul de Vroom with our client Krost dates back to 1985. After having realized several projects for Krost as a partner of DKV Architecten, mutual respect and understanding has grown for the quality of the design and construction on site. Dutch House is the result of the accumulated experience and developed knowledge and a very fruitful collaboration with our Russian colleagues.
Dutch House
Themes that guide our work #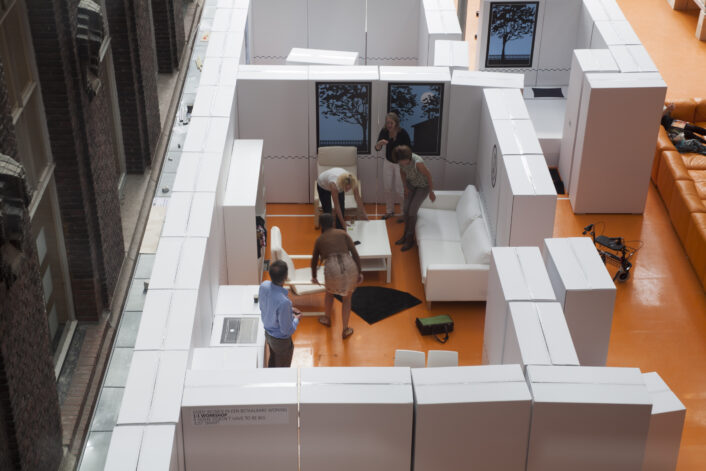 We design buildings for people to inhabit, to cherish as their home or to or as a nice place to work. In the process of designing we are guided by 4 themes to achieve that goal: Smart Typologies, Sustainable Future, Tailor Made Design and Building is a Craft.

Themes
Who we are and how we work #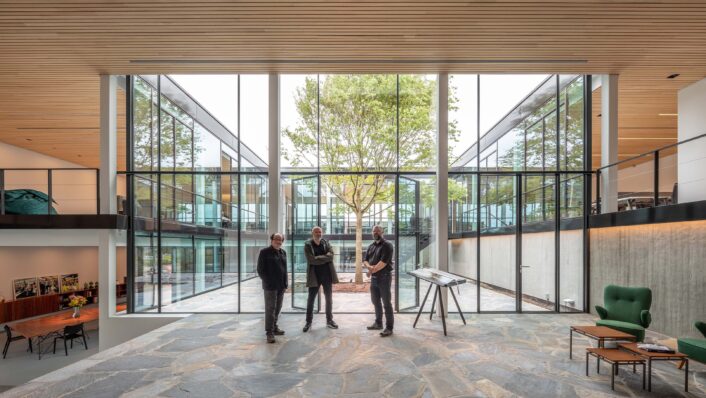 Paul de Vroom, Henk Bultstra and Bert Karel Deuten share a heart felt belief in the power of models and types as driving forces in the design and communication process of a project. Besides their work in the office, they share their knowledge at different architecture schools in The Netherlands and abroad.
About us
For ideas, updates and news #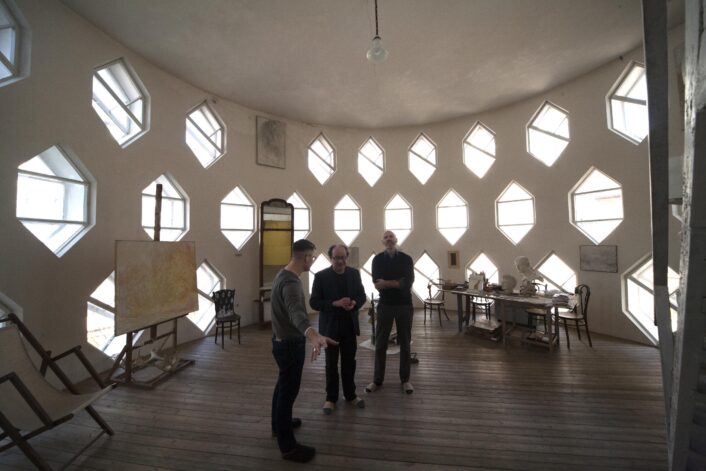 In the Journal we collect news about our office, ideas that have not yet been given a place in a project, reports of excursions and project visits, updates on construction, and so on. Here we give an overview of what keeps us busy.
Journal