A new campus master plan #
The parking garage plays a key role in the redevelopment master plan for the Erasmus University Woudestein Campus. The amount and growth of the parking lots around the campus became a threat to the possibilities for future expansion. Most of the campus grounds in between the buildings were filled with cars. Besides that the campus had four entrances, none of which really had the grandeur of a main entrance, because they all just provided access to the parking lots. A spatial structure was lacking between a wild growth of pragmatic university buildings. In the middle of all this, the concrete monumental main building of 1970 by Elffers and Van der Heyden, stood its ground.
The university board took a brave leap by putting the redevelopment master plan for future expansion on the site in motion, not by making a new university building, but by making the parking garage the first structure to be built and get all the cars out of sight.

Landscape architects Juurlink & Geluk were invited to the competition for the campus redesign. They teamed up with us and our entry won.
The main features of the master plan are the two pedestrian axes that divide the campus grounds into four quarters. One axis is formed by a public plaza, with underneath the two layer parking garage. This plaza connects to the two main access roads, providing the campus with a grand entrance.
The parking garage sits on the edge of the higher and lower ground of the campus and is the hinging connection between the two levels in the landscape. The parking garage facade is partly open on the -1 level and partly made as landscape stairs.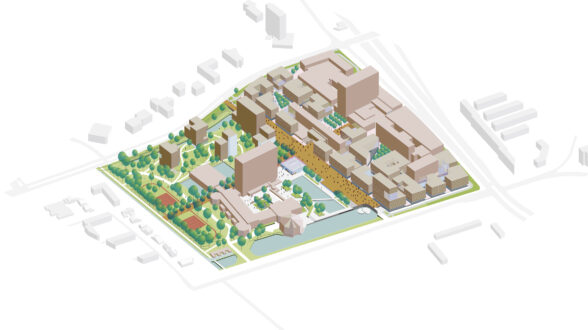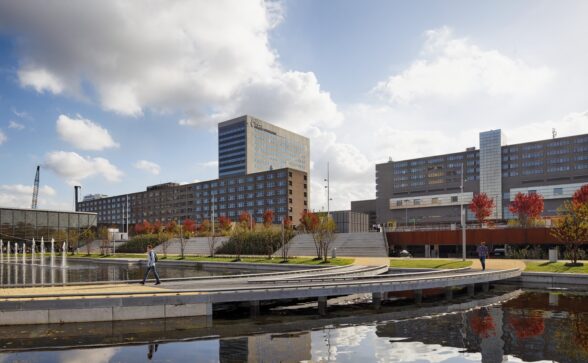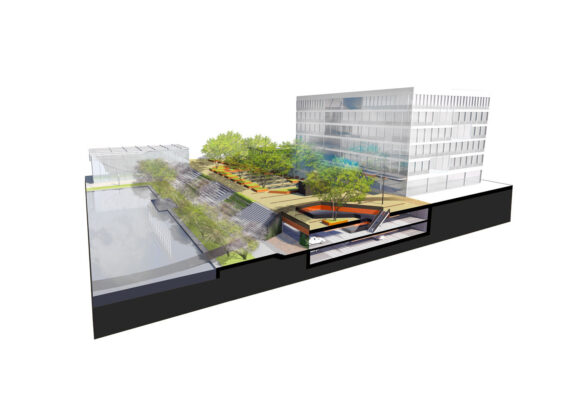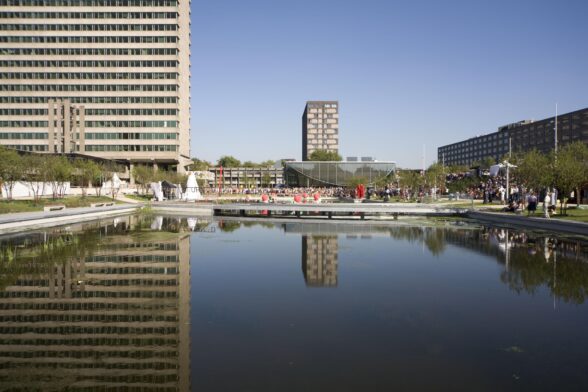 Juurlink and Geluk designed a large pond in front of the monument by Elffers. The pond and the new student pavillion, designed by Powerhouse Company and De Zwarte Hond, together form the new heart of the campus. It is the place where you shoot the picture holding your diploma.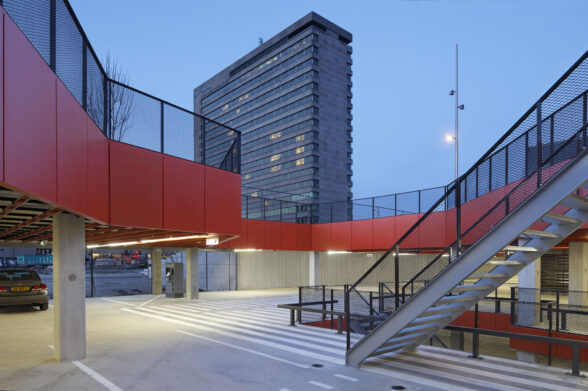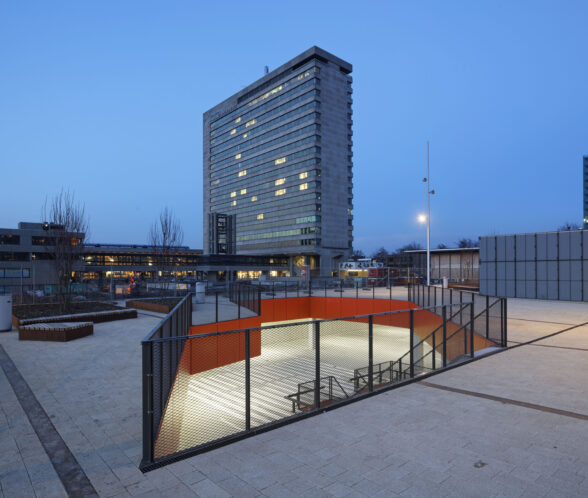 Bringing all the parked cars together under one roof and not in front of the building where you need to be, also means some walking distance. And it starts in the parking garage. Therefore we introduced two big voids in the parking garage levels, not only to bring daylight into the garage, but also to make some of the landmarks of the campus visible from the interior of the garage. This anchors the garage in the campus, and helps the way-finding in a natural way.
The interior of the parking garage is sober. To keep the ceiling as free as possible from screwed-on technical elements, we made a lowered ceiling of aluminum slats, that partly covers the ceiling. Together with the light lines, floor striping, the pattern on the concrete walls and glass, the ceiling slats complete the line-pattern-design. All lines are across the driving direction. The driveway in the garage is unobstructed for the complete 400 m length of the garage.